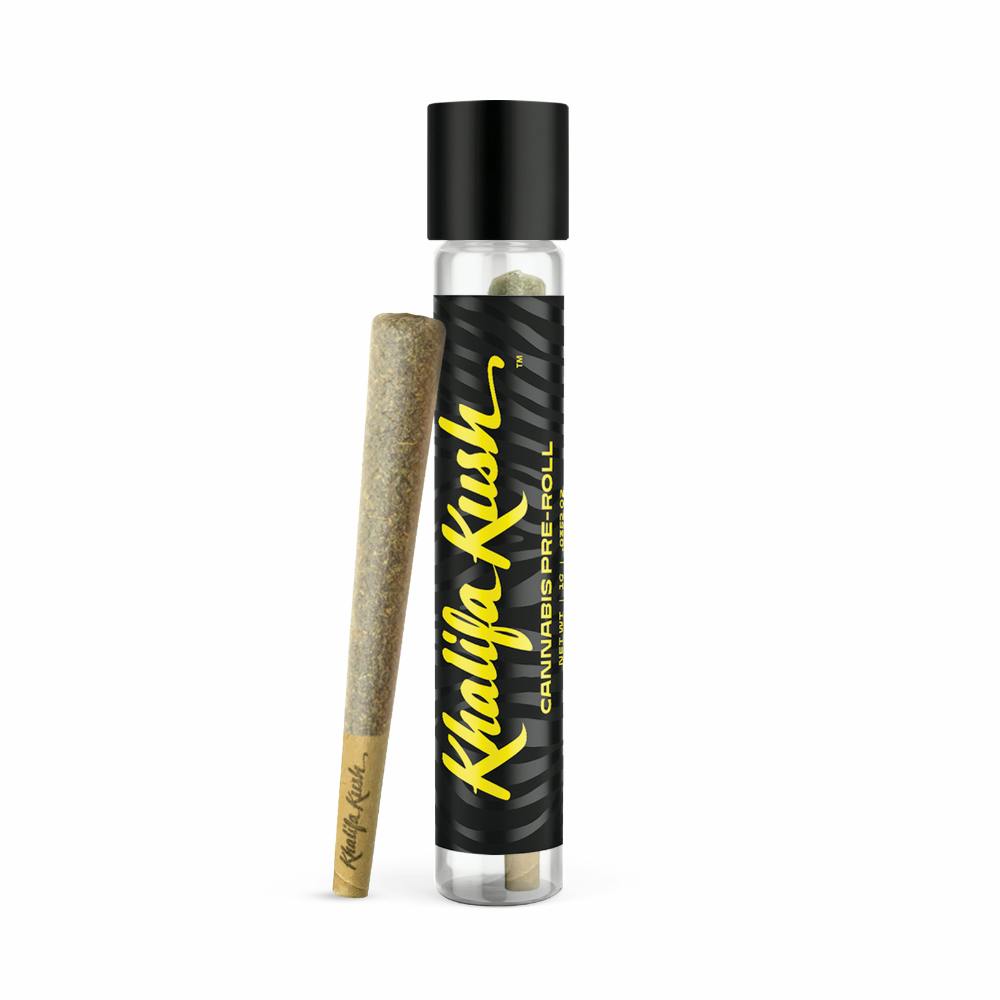 Brand: Khalifa Kush
Khalifa Kush (I) PRJ 1g
The original Khalifa Kush is a mysterious OG Kush that Wiz himself has loved, grown, and smoked since 2012. The "real" Khalifa Kush is a clone only strain that is unavailable to the public and clones are only given to cultivators approved by Wiz. Khalifa Kush produces creative effects and a cerebral high, even with its indica leaning OG genetics. This blend can be smoked morning, noon, and night. Trust us, Wiz smokes this all day long. The flavor is like velvety Kush, pepper, sour lemon, and pine. Variety: Hybrid/indica (although its effects are more uplifting) Lineage: OG Kush x OG (unknown origin)
Effects
Relaxed
Sleepy
Happy
View Product Testing Data
CBD (Cannabidiol)
0.1%
CBD (Cannabidiol)-0.1%
CBD is the second most prevalent cannabinoid and is primarily produced by hemp plants and at lower amounts in cannabis. It works as a phytocannabinoid, or binding agent, that adheres to an individual's endocannabinoid system. Cannabidiol has soared in popularity due to its lack of psychoactive effects. Most users seek CBD for its medicinal properties since it was the first cannabinoid to be approved by the FDA. Its healing properties include an ability to help you relax, reduce irritability and ease restlessness.
CBDA (Cannabidiolic acid)
0.1%
CBDA (Cannabidiolic acid)-0.1%
CBDA is a derivative of CBGA and the precursor to the well known cannabinoid CBD. Over the last decade scientists have found that CBDA has a very similar chemical structure to that of nonsteroidal anti-inflammatory drugs (NSAIDs) and thus has shown promise in treating pain due to inflammation by inhibiting COX-2 receptors in the brain that register pain. CBDA has also been shown to help regulate the over release of serotonin that causes severe nausea and vomiting in patients receiving chemotherapy, and while more thorough research is needed these results are very promising.
CBG (Cannabigerol)
0.2%
CBG (Cannabigerol)-0.2%
Cannabinoids are synthesized by Cannabigerolic Acid. CBG is the decarboxylated form of this acid that appears at low levels in most cannabis plants. Because its properties are beneficial to multiple parts of the endocannabinoid system, CBG has a wide range of therapeutic uses. It is non-psychotropic and can provide analgesic and antidepressant qualities.
THCA (Δ9-tetrahydrocannabinolic acid)
28.5%
THCA (Δ9-tetrahydrocannabinolic acid)-28.5%
THCA is a cannabis compound with a laundry list of potential mental and physical health benefits. THCA is the non-psychoactive precursor to THC, the most famous cannabinoid of all. While THC is responsible for the psychoactive "high" that so many of us enjoy, THCA has shown great promise as an anti-inflammatory, neuroprotectant and anti-emetic for appetite loss and treatment of nausea. THCA is found in its highest levels in living or freshly harvested cannabis samples. For this reason some users choose to juice fresh cannabis leaves and flowers to get as much THCA as possible.
About the brand :
Khalifa Kush
Khalifa Kush products were first commercialized in the U.S. in 2015 by global icon Wiz Khalifa. The company has achieved continued growth and success by focusing on high quality and highly sought-after products in legalized cannabis markets. The Khalifa Kush brand offers a growing lineup of flower, pre-rolls, vapes, edibles, and concentrates, powered by proprietary genetics. Khalifa Kush is available in select markets including California, Florida, Nevada, Oregon, Michigan, Arizona, and Utah. Learn more about our upcoming launches, and shop apparel at KHALIFAKUSH.COM.